How to outsmart bike thieves
Bike path networks have multiplied in recent years. Our growing environmental awareness compels us to use 'active' modes of transportation. More of us now pedal our way to and from our daily activities.
The market has become even more attractive to thieves as the demand for bikes of every kind has skyrocketed. It doesn't matter the style of bike you have; your chances of it being stolen are about the same, high.
Here are some tips to one-up thieves and to know what to do if your bike is stolen.
Device to discourage the bad guys
A U-lock
Start by picking a really good lock. Not a chain (that is child's play for thieves), but a solid U-lock. It should be heavy, on the short side and from a recognized brand. The trick is to leave as little space as possible for a thief to insert pliers or a saw. Place the lock facing down to make it even harder to access.
Proper use of your lock
Even if you have the best lock on the market, if you only lock the front wheel, it could be all that's left when you return. Focus on the rear wheel instead (one of the most expensive bike parts). According to the Sheldon Brown technique, it is enough to simply lock the rear wheel with a mini U-lock. Thread the lock through the inside of the triangle made by the seat stays, chainstays and seat tube.
This technique works to secure both the rear wheel and the frame. To access the bike, a thief would have to saw through the rear wheel. However, that's not to say it couldn't happen, as the video replay can attest.
Use the modified Sheldon technique for maximum security. It involves attaching a part of the frame with the wheel inside the U. You can secure the second wheel with a steel cable.
Don't forget to take anything that can be removed with you, like the seat, lights and other accessories. If you have an electric bike, remove the battery and the screen if it's not attached.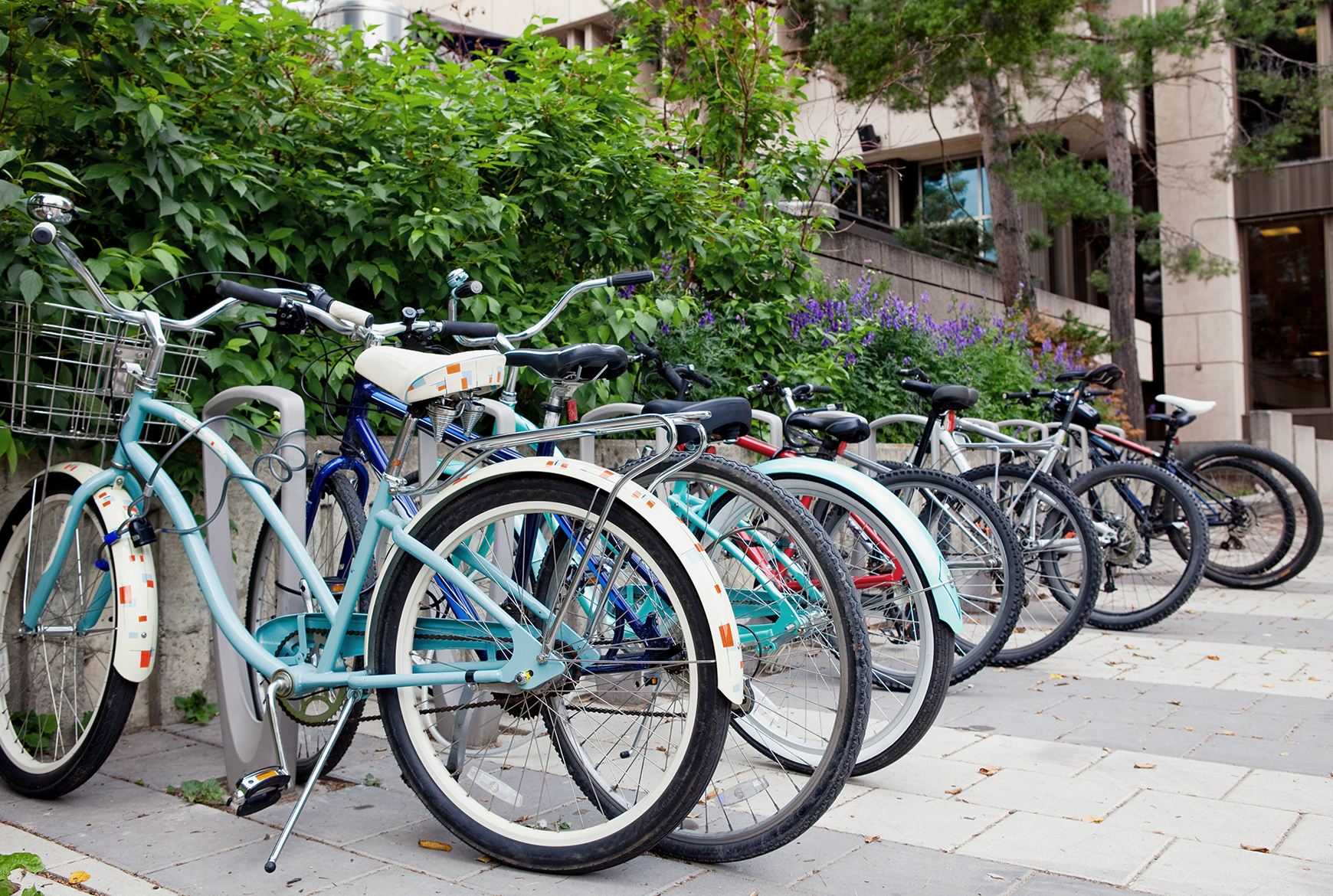 Best place to lock your bike
Bike racks installed by your municipality remain your safest option. The only problem is they seem to be as hard to find as parking spaces in the city these days.
If you manage to snag one, pick a spot in the middle of the rack. Your bike could attract less attention locked up among other bicycles.
But what to do if you're running late and cycling in circles looking for a spot and there's none to be found?
A tree? Fuhgettaboutit! You could damage it first of all. Or a thief could simply decide to cut it down if it's small enough. And they can cut through a wire fence in a heartbeat. Your best bet would be a signpost solidly attached to the ground.
Choose a high traffic, well-lit area too. Avoid always locking your bike in the same spot.
And if you have enough room, store your bike safely indoors when not using it.
A telltale mark to make a difference
There are numerous ways to help you find your bike if it's stolen despite all your precautions.
Operation anti-theft
Some organizations or police stations in several cities offer a free anti-theft bicycle engraving service. It involves engraving a unique identification number on each bike and logging it in a police service database.
Find out if your municipality offers this service in your area. You'll often see teams in parks or at universities in the spring offering an operation anti-theft clinic.
529 Garage: a non-profit collective effort
Founded in Seattle in 2013, 529 Garage is a non-profit organization that helps protect your bike from getting stolen. It's easy to sign up and only takes a few minutes. Here's how:
Head to project529.com/garage 

(This hyperlink will open in a new tab).

or download the 529 Garage mobile app to create a free account.
Register your bike by providing some basic information, including the serial number found under the bottom bracket near the crankset.
Upload some photos of your bike to increase your profile's effectiveness.
When the registration is complete, get a 529 sticker and attach it to your bike. You can find a list of sales outlets in your region on the 529 Garage website. This tamper-resistant, weather-resistant sticker has a unique identification number. It can act as a deterrent to thieves.
If your bike goes missing, you can send out an alert from your mobile app or the 529 Garage site. All the users in your area will be notified. They can share your pain, keep an eye out and help look for it.
Stolen bike? When life gives you lemons, make lemonade
First take a tour around your neighbourhood. If you're lucky, it has only been 'borrowed'. You'll find it a few blocks away. And perhaps you just forgot where you locked it.
Take the following steps if a theft has occurred:
Police report
Notify the police of the theft regardless of the value of the missing bike. This will increase your chances of getting your bike back. Each stolen bike report helps measure the scale of the issue in your area.
Every year, many recovered bikes are not reunited with their owner due to lack of information. A report can be submitted online the police service website in most municipalities.
Insurance claim
Your bike is covered by your home insurance. Yes, it is! Even if it's stolen away from your home. It's up to you to decide if the claim is worth it. It will depend on your bike's value and the deductible in your contract.
Beneva
La Capitale and SSQ Insurance
become Beneva
That means a whole lot more good people have you covered!