Prepping your trailer or RV for the winter
You had a blast travelling and going on adventures during the warmer months with your recreational vehicle and trailer, but now, it's time to store it for the winter.
Follow our tips so that you can store your RV properly for the winter.
Storing your RV or trailer outside
Humidity is your vehicle's number one enemy during the winter.  To combat winter humidity and stop rust in its tracks, you should avoid storing your motorhome or trailer on the lawn. You should instead cover the ground and your vehicle with tarps to reduce the risk of water infiltration. That way, it will create improved airflow and you'll reduce the inconvenience caused by condensation.
However, you'll still need to clear the snow from your RV in the winter.  Make sure not to damage the roof's rubber membrane.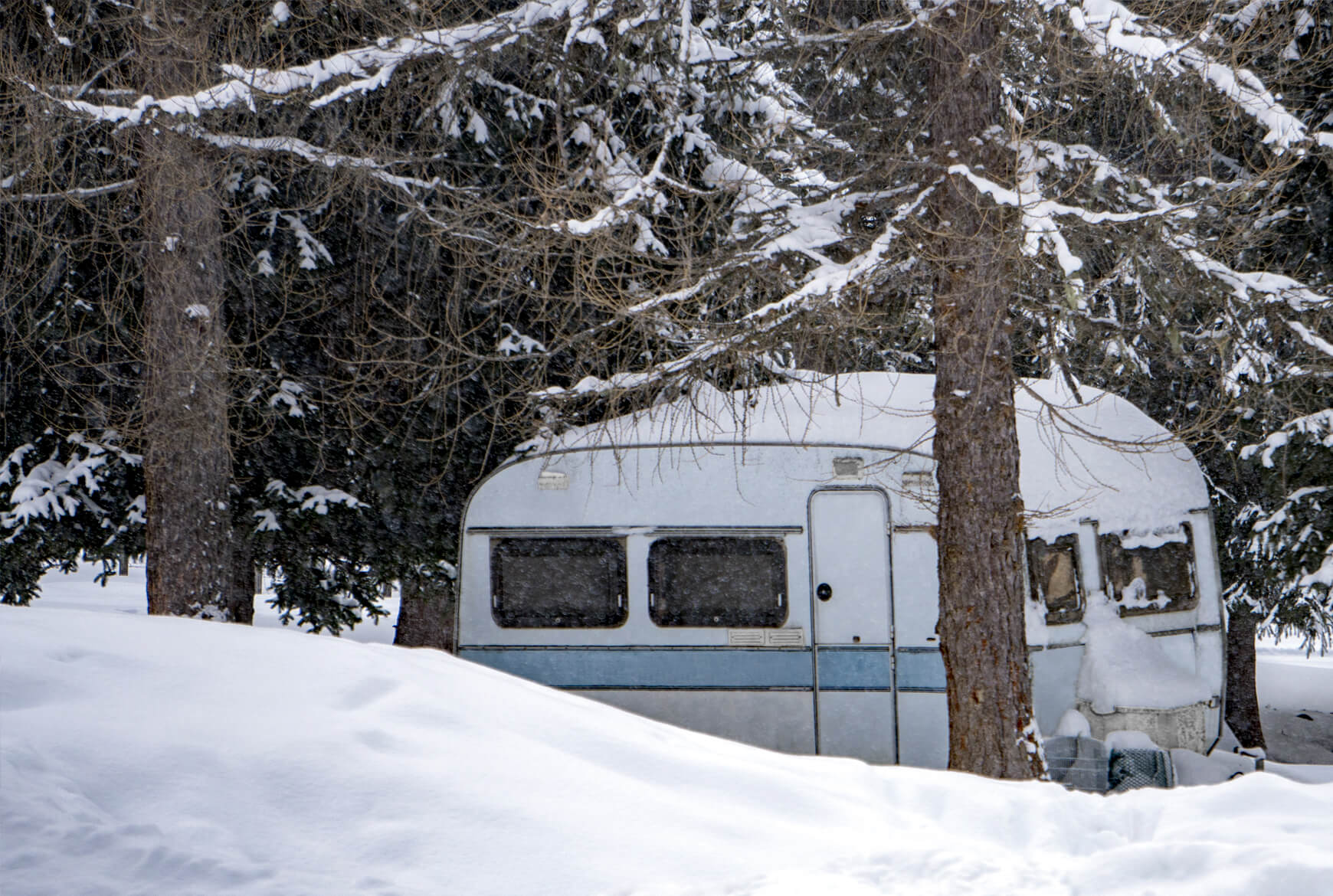 The most crucial step: Drain the pipes
To prevent damage to your motorhome or trailer from burst pipes due to frozen water, they should be drained. 
When you get back on the road in the spring, you won't have to worry about your RV or filing a claim with your insurer.  
Before the cold weather hits, remember to drain the water and flush out all the pipes and tanks in your RV.
Sink
Toilet
Shower
Water heater
Dishwasher
Washer
Pour a good amount of non-toxic antifreeze in the pipes. Make sure all the water has been drained from the pipes by turning on all the RV's faucets until the antifreeze pouring out of them turns red.
Activate the water heater bypass valve so the antifreeze does not seep into the heater. 
To drain the excess water, open the drain plugs and close them back up.
Operation clean-up
Empty the cupboards of any food that might be tempting to unwanted critters. Do the same with your garbage cans! Also remove items that aren't winter-friendly, i.e. household products. 
Give your RV a thorough scrub down...although you'll need to do it all over again in the spring before you take it back on the road. 
Install traps and repellents against rodents and other animals that may find their way into your RV.  
One last inspection
Keep your eagle eyes peeled as you'll need them to inspect your RV or trailer before storing it for the winter. 
To prevent water from seeping into your RV, you should examine:
All seal joints
Roof
Walls
Doors and windows 
Seal all gaps to repel water and snow
Other things to check
Turn off electricity and propane. Take the batteries home with you where they'll stay nice and warm.  
Lubricate all locks and the chassis.
When you fill up for the last time before winter
Add an additive to your fuel tank to protect it from deposit buildup.
And what about your insurance?
During storage, your insurance covers your RV or your trailer against certain incidents:  
Damage caused by an object falling on your vehicle, such as a tree
Theft
Vandalism
Flooding
Fire
Some insurers provide a storage credit  for RVs.  If you have notified yours and taken advantage of this credit, don't forget to bring your motorhome out of storage when the nice weather returns.
One last thing before you take off: have your vehicle's registration reinstated. 
Beneva
La Capitale and SSQ Insurance
become Beneva
That means a whole lot more good people have you covered!