Lithium batteries: Should you worry?
You might not be aware, but your neighbour's power drill and scooter run on the same type of battery. Your cell phone, too, and the game console you purchased for your son. And what provides this power? Lithium batteries, of course.
The only catch is that the more often they're used, the higher the risk of fires because most people don't fully grasp the potential danger. Keep reading to discover how you can prevent fires triggered by lithium batteries in your home.
What's different about lithium batteries?
Batteries are classified based on the type of electrochemical reaction they create. Although lithium batteries can sometimes be tiny, they can supply power to huge energy consuming appliances. They do in fact provide more power than alkaline batteries like the ones found in your remote controls, or your walkman from the 80s!
Since they also last longer, lithium batteries are being used in many current products: electronic tablets, cameras, sports watches, etc...
Why monitor these batteries?
Since lithium batteries can be found anywhere, the source of danger can be a charging electric bicycle or vaping device – or even a box filled with batteries.
Safety services in many Canadian cities have been reporting an increasing number of fires caused by lithium-ion batteries. According to the Vancouver Fire Rescue Services, between 2016 and 2022, losses due to this type of fire increased by 500%. These fires, with their chemical reactions, have been causing all kinds of problems for firefighters. And they usually cause major damage.
That's why you're better off staying on guard with basic prevention and, of course,  home insurance tailored to your situation.
When are lithium batteries a risk?
Quick reminder: Small-sized batteries, whether they're lithium or non-lithium, are dangerous when ingested, so keep them away from children!
Typically, lithium-ion batteries are safe, except in the following situations:
Extreme temperatures
Lack of ventilation causing overheating 
Manufacturing defects
An impact, hard blow or accidental contact with a metallic object
Breakage if, for example, a battery has been pierced or crushed
Improper recharging, or recharging by tissues or other combustible materials
Overload
Since lithium-ion batteries are highly reactive, if you use, store or dispose of them incorrectly, it can lead to a fire or explosion. Fortunately, we can easily avoid this!
Know the risks…and how to prevent them 
Whether you live in a condo, apartment or house, you can manage the risks with a few simple habits.
Check the condition of the batteries before using them. Is the surface bumpy or bulging? If there appears to be some damage to the batteries or packaging, don't use them.
If they appear to be in good condition, read the manufacturer's instructions, especially the section about safety.
Try not to use different brands of batteries together in the same device. Mixing old and new batteries is not the best idea, either!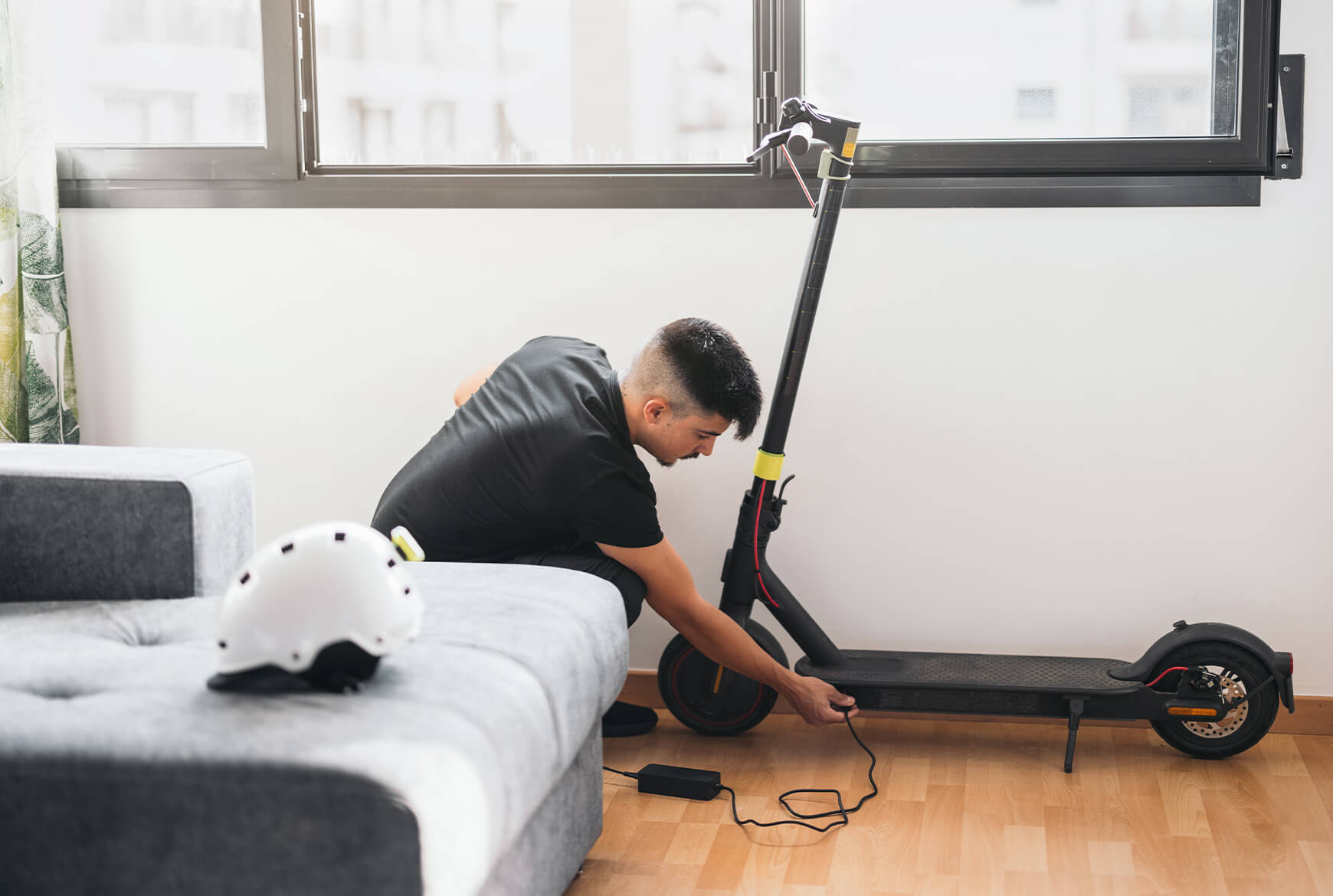 Recharging
Don't ever try to recharge a battery that's not rechargeable.
When charging lithium-ion batteries, or devices that contain them, use a compatible charger that is in good working condition. Batteries sometimes contain circuits that prevent overloads, but poor-quality equipment can damage these protective measures.
Use a well-known charger brand, ideally CSA, cETL or cUL certified. The certification means the brand meets Canadian electric safety criteria.
Wait for the battery to cool down to room temperature before charging. Do not charge longer than recommended.
When a battery or device is being charged, secure the area: remove all flammable material. Even if it hasn't sparked a flame, an overheated battery can start a fire.
Store your batteries and the items that contain them in temperature-controlled areas. For example, during a heat wave, don't leave a wireless tool in your car's trunk. If it short-circuits or with extreme heat, lithium-ion batteries can ignite or explode.
Don't keep the battery-powered device next to you when you're sleeping, especially if it's recharging. The soft surface of your pillow or bed retain too much heat.
Storage
Store your batteries in their original packaging or a non-metallic container. Keep them someplace cool, away from metal objects like coins. This prevents short circuiting.
Keep them away from fire, water and corrosive products such as cleaning products. Don't leave flammable materials nearby.
Make sure your lithium-ion batteries, and the devices they're in, are not at risk of dropping or being crushed. An impact, shock or damage can cause serious heat reactions to occur.
Disposal
You'll have to get rid of the batteries and the devices when they no longer work. But the danger doesn't occur when the batteries are taken out of a home or shed.
Once they're thrown out or placed in the recycling bin, they can get crushed, catch fire or explode when they're being transported or sorted. That's why you must dispose of your used batteries by taking them to an ecocentre or any other location designated for such a purpose. Never throw them out in the garbage or recycling bin...and never in a fire!
In the meantime, keep a close eye on your overheating laptop...it could be on its last legs! It might be time to unplug it for good.
Beneva
La Capitale and SSQ Insurance
become Beneva
That means a whole lot more good people have you covered!