The Foundation for Athletic Excellence and Beneva—La Capitale and SSQ Insurance coming together as one New $200,000 Agreement over Two Years, with $80,000 in Annual Bursaries
---
Montréal, Thursday, May 13, 2021 – The Foundation for Athletic Excellence (FAEQ) is proud to begin a new chapter in its partnership with La Capitale Insurance and Financial Services. The FAEQ is pleased to announce that Beneva, the company created through the coming together of La Capitale and SSQ Insurance, will invest $200,000 over two years to support Quebec's student-athletes.
The FAEQ counts itself as fortunate to have Canada's largest mutual insurance company—with more than 5,000 employees—as its prestigious partner. The company's support through 2022 and 2023 will make a big difference in the educational and athletic progress of the province's top student-athletes.
The La Capitale Bursary Program (now the Beneva Bursary Program) has been very successful since it began in 2010. Many of its recipients have gone on to excel internationally, including Olympic champion Samuel Girard (short-track speed skating), world champions Laurence Vincent-Lapointe (canoe/kayak sprint) and Cindy Ouellet (wheelchair basketball) and Olympic silver medallist Kim Boutin (short-track speed skating). Several La Capitale/Beneva alumni are also achieving great things in their post-sports careers. In consideration of the current health crisis, we salute Marie-Ève Beauchemin-Nadeau (weightlifting), Rémi Pelletier-Roy (track and road cycling) and Marie-Claude Surprenant (mountain biking), all three of whom have become doctors after combining high-level sports with their medical studies.
For the 12th edition of the program, $80,000 in bursaries were awarded to 23 outstanding student-athletes. This year, 16 bursary recipients saw their financial support renewed through the program, while seven new recipients joined the growing FAEQ-Beneva family.
During the virtual awards ceremony on Facebook, Jean-François Chalifoux, President and CEO of Beneva, and Annie Pelletier, Director of Communications and Partnerships for the FAEQ, had the opportunity to speak with the recipients. The $2,000 and $4,000 bursaries were awarded in four categories: Academic and Athletic Support, Academic Excellence, Leadership and Perseverance.
In their own words:
"We at Beneva are proud to pursue our partnership with the Quebec Foundation for Athletic Excellence. Our collaboration will enable us to support many of Quebec's young student-athletes for years to come. It's also a good reminder of the importance of healthy lifestyle habits, which are essential to the health of individuals and the well-being of communities. I congratulate our bursary recipients for their determination and accomplishments, both athletic and academic."
– Jean-François Chalifoux, President and Chief Executive Officer, Beneva
"Looking back at past recipients of the La Capitale/Beneva Bursary Program, it's impressive to see what they've achieved, both in sports and professionally, especially since most of them received support before they were well-known, when they really needed it. I'm convinced that Beneva's support will inspire many more of Quebec's young student-athletes to pursue their quest for excellence." 
- Claude Chagnon, President, Foundation for Athletic Excellence
Recipients of the 2021 Beneva Bursary Program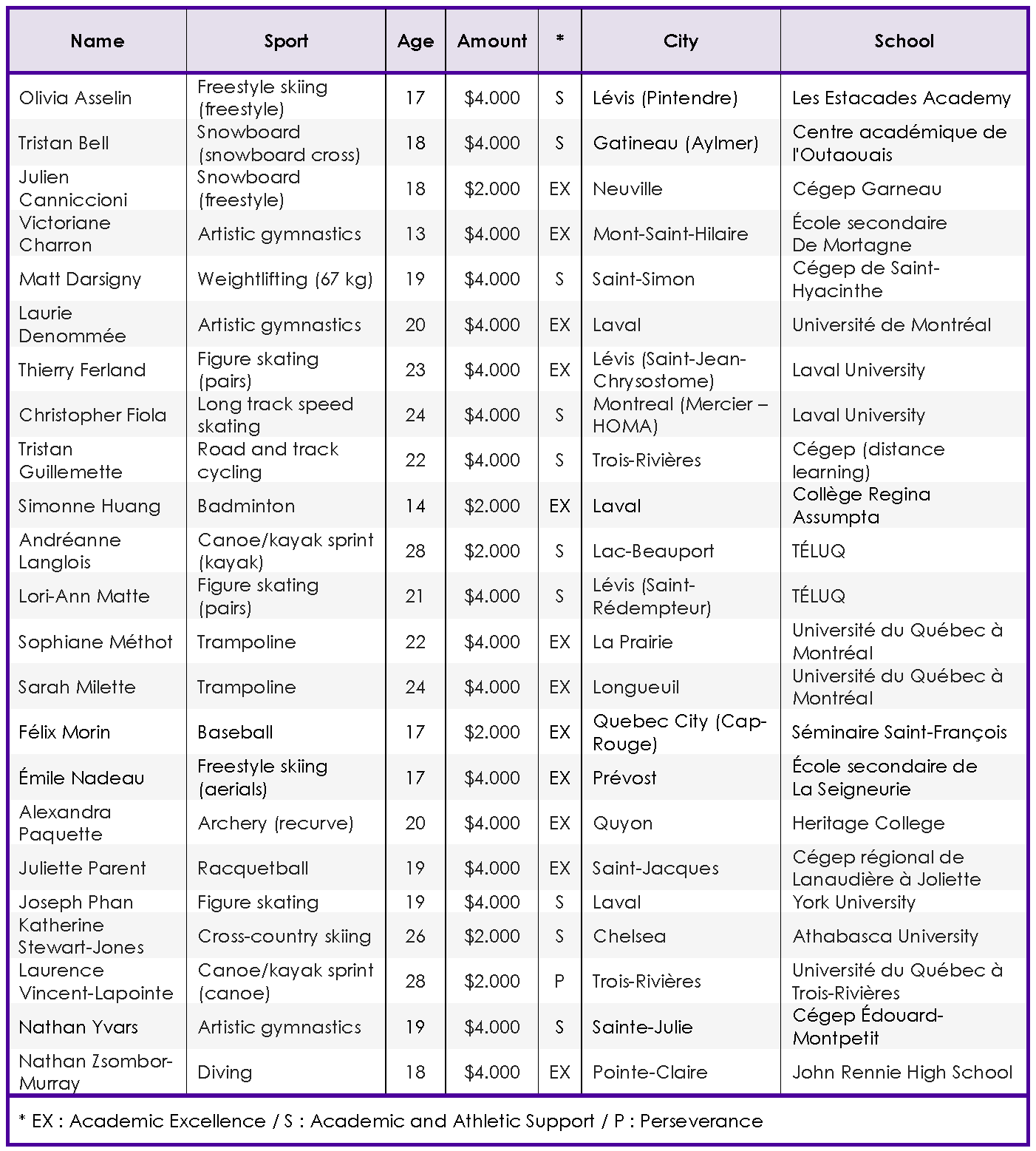 About Beneva
Beneva was created through the coming together of La Capitale and SSQ Insurance to become the largest mutual insurance company in Canada with more than 3.5 million members and customers. Beneva employs over 5,000 dedicated employees: people looking out for people. Its human approach is rooted in mutualist values shared by its employees. With over $25 billion in assets, Beneva positions itself as a major player in the insurance and financial services industry. Its head office is located in Quebec City.
About the Foundation for Athletic Excellence (FAEQ)
Since its creation in 1985, the FAEQ has distributed $18 million in bursaries, consisting of 6,000 individual bursaries awarded to 3,000 different recipients. Not only does the FAEQ provide financial support to Quebec's student-athletes, but it also offers support resources such as academic counselling, sport/study balance, corporate internships, etc. The FAEQ is recognized for its personalized approach, rigorous management style, and influence in sports and education circles. faeq.com
- 30 -
For more information:
Annie Pelletier
Director of Communications and Partnerships
faeq.com
514 252-3171, ext. 3538
[email protected]
Media relations
1 866 332-3806
[email protected]
For any requests for interviews with bursary recipients:
Josée Robitaille
Administrative Assistant. Communications
faeq.com
[email protected]