What equipment to wear for spring skiing?
Can't resist the urge to head out onto the slopes to do some springtime skiing? Both cross-country and downhill skiing enthusiasts are drawn to the balmy weather, the warm sun, the texture of the melting snow and being able to enjoy a cocktail on the outdoor terrace.
But how do you dress for the occasion? Let's take a look at the skiing apparel to wear during the warmer season.
What type of ski clothing do you wear in the spring?
The multi-layer system (onion principle) is perfect for springtime skiing. You're neither too hot nor too warm depending on what Mother Nature throws at you.
By dressing in three layers, you'll be able to regulate your body temperature better.
Base layer
The base layer comes into contact with your skin.
To ensure that the base layer wicks away moisture and dries quickly, look for clothing made of synthetic fibres (polyester or propylene) or merino wool.
You should avoid wearing a cotton t-shirt. It may be your natural go-to, but it also absorbs moisture and makes you feel cold.
Mid-layer
Because the first layer isn't warm enough, the middle layer keeps you insulated from the cold.
Time to trade in your down jacket for a synthetic one. A down jacket keeps you warm in cold temperatures, but it isn't suitable for people who sweat a lot and practise outdoor sports.
You'll stay warm in synthetic fleece jackets or clothing even if you sweat.
In the spring, it's often the mid-layer that you take off as temperatures rise.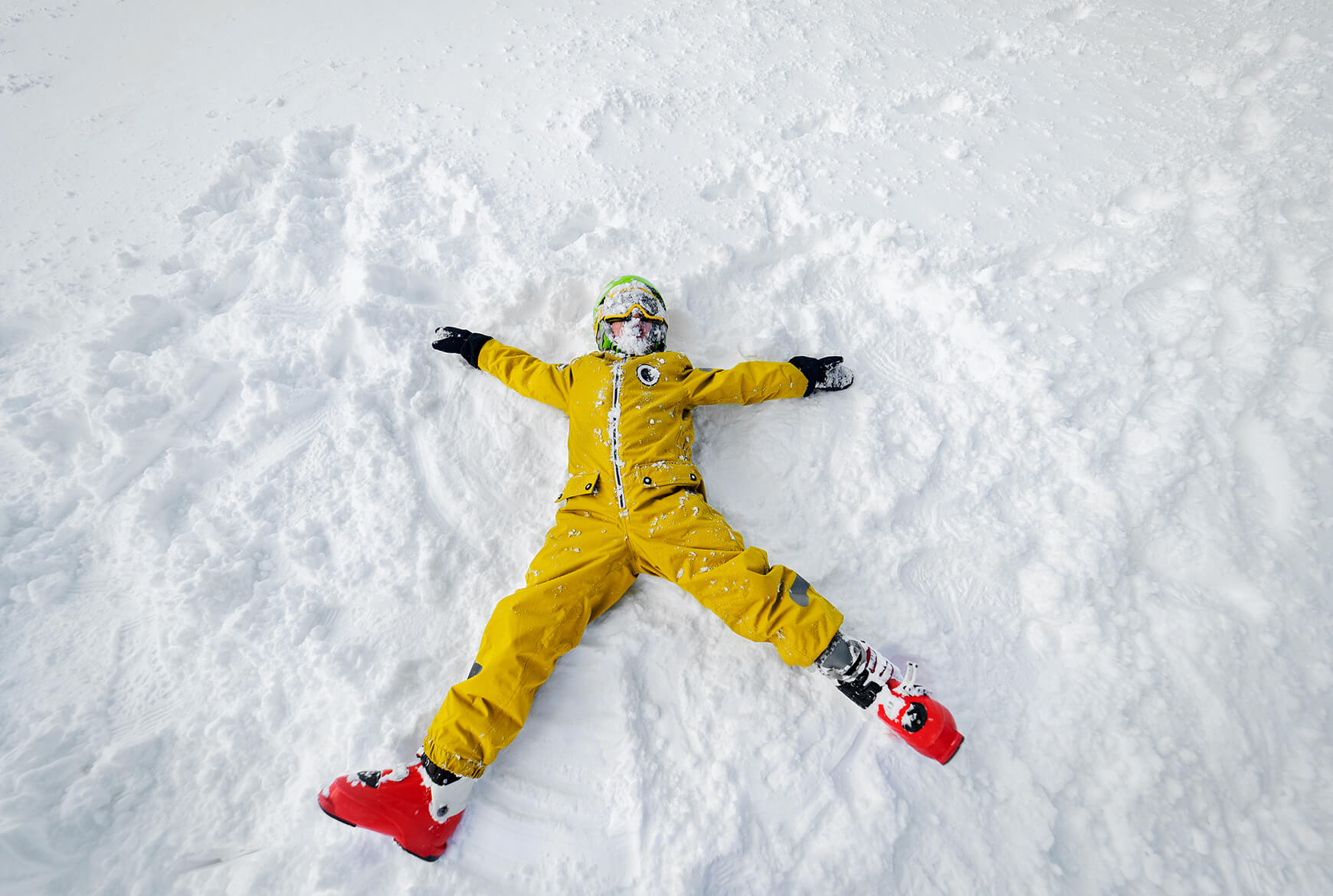 Hard shell
The third layer hard shell protects you from the wind, rain and snow.
This protective outer shell should be:
Lightweight
Compressible
Breathable
To protect yourself from the elements, you should choose the right windbreaker, a shell or sleeveless jacket.
For your hands
Wear lighter gloves and put away your down mittens.
For your head
If it's too hot, leave the vents on your helmet open. You need to "let the steam out", but protect your head at the same time.
Ski goggles and sunglasses
Don't forget to protect your eyes from the snow, wind and UV rays.
It's harder to adapt your vision when the spring sun is falling and reflecting off the snow.
For optimal vision when you're on the slopes, choose goggles or sunglasses with polarized lenses, which reduce glare and the effects of the sun.
Choose darker lenses ranging from black to charcoal grey. Mirrored glasses are recommended because they let you see a wider range of colours and contrasts.
Pay attention to the amount of light that reaches your eyes. To do this, make sure the Visible Light Transmission index is between 5.5 and 12%.
Watch out for sunburn!
Remember to protect yourself from the sun with the warmer weather setting in.
Make sure to apply sunscreen on your face before heading down the slopes.
Your skin will be protected from harmful UV rays when the snow acts as a reflector.
Beneva
La Capitale and SSQ Insurance
become Beneva
That means a whole lot more good people have you covered!