Tips to welcome your new baby
Expecting a visit from the stork soon? You're jumping for joy just at the thought of holding your baby in your arms. Then, with a smile you slowly realize... that you're pretty new at this. Where to start to welcome Jenny (or Thomas!)? Try our tips to help prepare for your child's birth and experience its first moments with peace of mind.
Manage the paperwork
Welcoming your new bundle of joy requires a fair amount of paperwork. But don't worry, we always get there in the end.
First, check with your provincial government to find out about assistance programs for new parents. For example, in Quebec, you will need to complete the Québec Parental Insurance Plan  (This hyperlink will open in a new tab). and Employment Insurance (EI)  (This hyperlink will open in a new tab). applications. Your employer's HR department can help you navigate this sea of forms. If the mother-to-be is a student, she can apply for student financial aid. And you'll really want to find a daycare and reserve a spot as early as possible.
Don't forget you can find a wealth of useful information and resources online. Many community organizations and parent groups have valuable advice to share. If your friends have kids, don't hesitate to ask them for help. They've probably become real pros at this kind of paperwork!
Start nesting
Did you know that newborns spend between 14 and 18 hours a day in their room? All the more reason to get your nursery right. First and foremost, it must be comfortable for baby. Next, all the necessary items to care for your child should be kept within easy reach. Experts recommend you stock up two to three months before your due date. You'll really get a feel for the room, and you can store your (many!) purchases. By spending a lot of time in this room, you'll quickly pick up on any missing accessories and ensure your nursery is organized efficiently for easy access to everything.
With so much influence from social media these days, it's tempting and easy to get caught up in the latest decorating trends. But when it comes to your baby's room, it's best to go for comfort and safety for both parents and child. For instance, that fluffy white carpet may look gorgeous in the picture, but it's probably a nightmare to clean and often very allergenic for your newborn. Best to play it safe with wood flooring. Also, watch out for the paint you choose. Most of the so-called "water-based" paints are designed with petrochemical ingredients. Many natural paints are free of the fumes that are harmful to young children. You might also want to consider refurbishing the room with second-hand furniture. Babies grow fast, no need to break the bank when it's easy to find recent furniture that's in perfect condition. Marketplace, Kijiji and other similar sites will help you find sweet deals to create a cozy nest.
Spread out your purchases
Welcoming a baby is expensive, especially when it's your first. Take advantage of those months before the delivery to spread out your purchases of must-have baby items. It's up to you to establish what you consider essential. For instance, some parents may feel they don't need the latest state of the art baby monitor, while others want that extra peace of mind. It's really up to you.
In addition to baby items, room furniture and décor, you'll have to get a car seat and stroller. You'll also need to put together a complete wardrobe for your little one. Fortunately, friends and family are often there to help with a starter kit of essentials. Think baby shower. It's tradition!
Your checklist should include:
soft clothes
towels
wipes
bedding
diaper bag
bath and care products
In short, changing table, high-chair, breastfeeding cushion... expenses related to the arrival of a baby add up quickly, and so does the bill. So don't get carried away with cute outfits or adorable stuffed animals (we know how we are, right?). Spreading your purchases over a longer period of time allows you to keep control of your finances.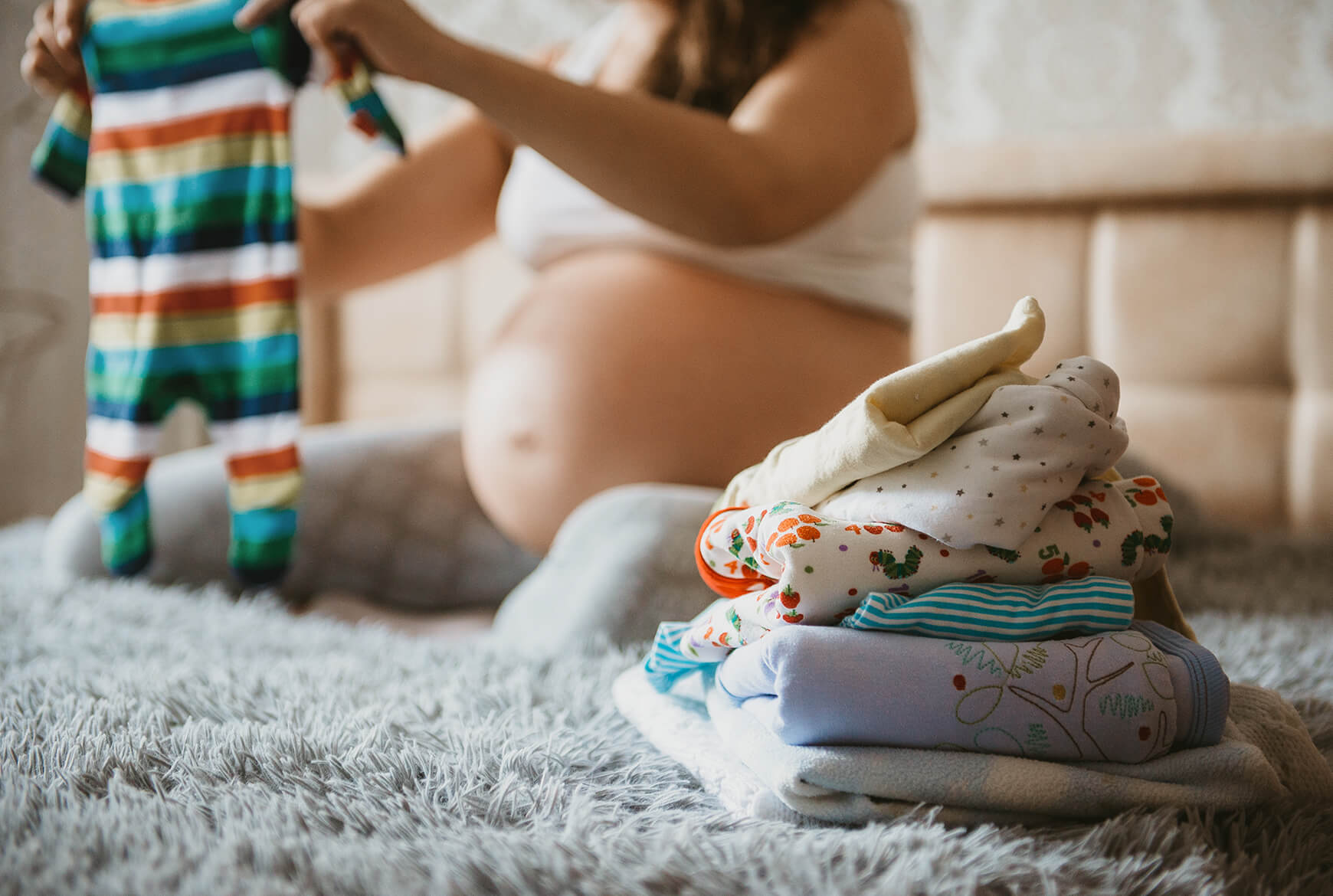 Prep for the big day
After months of preparation, the big moment has finally arrived: the delivery. Hospital or birth centre, the place doesn't matter. You'll need plenty of items to make this moment as comfortable as possible.
For mommy:
Nightgown
Comfortable slippers
Warm socks
Breastfeeding kit (if that's what you choose)
Personal hygiene products
Hospital card
Toiletries
For the other parent:
To be supportive at a time like this, you need a minimum of comfort. Among other things, clothes, comfortable shoes and a toothbrush are essential. You might want to include some noise-cancelling earplugs (if you need a little quiet every now and then). You might also want to pack some music, nutritious snacks and a phone charger in your luggage.
If you've chosen to experience this magical event in the comfort of your own home, bring all these items to the room that will serve as your delivery room. This way, you'll be able to find them easily when the time comes. The important thing is to have everything ready a few weeks before the expected due date. After all, Jenny or Thomas could arrive a little earlier than expected.
The birth of a child is the beginning of a long and beautiful adventure. Take advantage of these nine months of pregnancy to prepare your baby's arrival into the world. Taking care of the many things that need to be done beforehand will allow you to live the first moments with your baby to the fullest.
Beneva
La Capitale and SSQ Insurance
become Beneva
That means a whole lot more good people have you covered!